When I was growing up, Texas was my vacation destination every summer. That meant lots of smoked meat; more jumps off the rope swing than I could count; hot nights sleeping in a pop-up; hours of cousin play; and a whole lot of sunburn. Thankfully, my Grandmother had an aloe vera plant. I still remember the first time she hacked off a piece of that wild looking plant, cut it open, and smeared the jelly-like substance all over my arms. It was awesome. This was my first introduction to a succulent.
The aloe vera plant is one of many varieties of succulents. If you are unfamiliar with what a succulent is, think: desert plants. The lovely cactus is a good example.  They love dry, sunny climates.  Which means, they are hard to kill…unless you over water them.  I don't believe I would have that problem. I have been known to kill a few plants in my day.
I've been looking into starting a succulent garden…because they are adorable… and realized there is a lot that goes into the initial planting.  From what I've read, there are a few different soils you would need, possibly some sand and rocks, the container, and the actual plants themselves.  Is it doable on your own? Totally. However, when it comes to plants, I'm completely overwhelmed and convenience trumps my DIY spirit.
So here's what I found: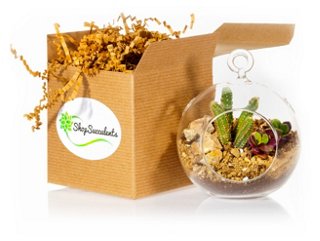 5″ Cactus & Succulent Terrarium Kit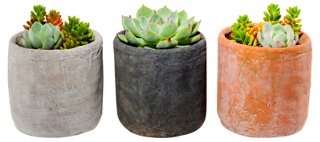 5″ Succulent Arrangement Trio Kit


Succulent Terrarium Duo Kit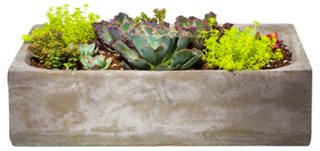 16″ Succulent Arrangement Kit
Terrariums are glass, globe-like vessels for your plants that are super cool, but I loved the pots and planter above so much I had to include them! I like these terrarium and container gardens because they come with everything needed to grow your succulents. These range in price from steal to splurge. I've got my eye on that sweet little cactus.
For those of you who are not afraid to do it all yourself, check out this post on how to make your own succulent garden. Dollar store bowls and river rocks would work well for this project.
Once you have your garden planted, there are some great tips here and here on how to care for your little desert cuties.
Have you tried your hand at caring for succulents? I'd love to hear any tips you might have!
Enjoy the beautiful spring weather, and bring some green into your home this week!
Stephanie
*this post contains affiliate links